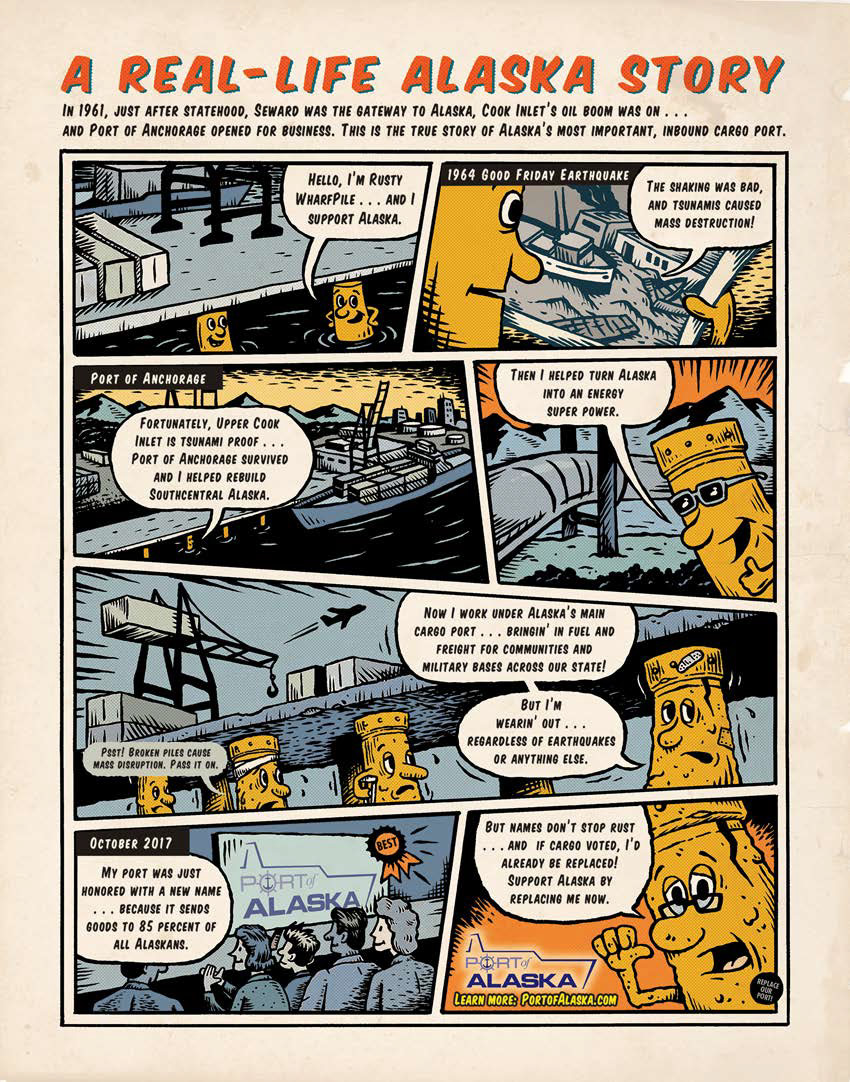 The Anchorage Assembly voted on Oct. 24, 2017 to rename the Municipality of Anchorage-owned and -operated port to reflect its statewide importance and national defense mission.
The Port of Alaska opened of business in 1961 as Port of Anchorage. At the time, Seward was the gateway to the brand new state of Alaska, Anchorage's population was 39,000 and the Cook Inlet oil boom was just taking off.
In July of that year, two months before the ribbon was cut, the Port welcomed its first foreign-flagged vessel when the Japanese freighter Kazukawa Maru delivered 600 tons of pipe and construction materials for Cook Inlet oil fields. It was a small load by modern standards, but Port of Anchorage was off and running, with its volume steadily increasing until 5:36 pm AST on Good Friday, March 27, 1964.
That was when a magnitude 9.2 earthquake – the second most powerful earthquake ever recorded – struck Alaska beneath Prince William Sound and caused mass destruction with shaking and tsunamis that killed 139 people as far away as Oregon and California.
Fortunately, Upper Cook Inlet geography virtually eliminates tsunami danger, and the 26-foot-wave that inundated Homer Spit was reduced to a ripple by the time it reached Anchorage.
Port of Anchorage was the only deep-water port in Southcentral Alaska to survive that natural disaster, and it instantly turned into the state's principal inbound cargo hub as it expanded to support earthquake reconstruction and then Alaska's North Slope oil boom and population surge. Today the Port handles almost 4 million tons of fuel and freight annually – half of all marine cargo delivered into Alaska. About half of the fuel and goods that cross Anchorage docks keeps moving to final destinations outside of the Municipality and in every region of the state.
For more than half a century Port of Anchorage demonstrated its economic viability and played key roles in supporting statewide growth, U.S. military missions in Alaska, the Pacific Rim and the Arctic, while also generating jobs and revenue for the Municipality of Anchorage. The present-day port has three general cargo terminals and two fuel terminals that are all dredged and maintained to a minimum depth of minus-35 feet. It is Alaska's most versatile port, routinely and efficiently handling flats, containers, break bulk, petroleum, dry bulk, and even cruise ships.
Anchorage evolved into Alaska's population center with three-quarters of a million people and its port became the state's main cargo transportation hub; supporting hundreds of millions of dollars of public and private cargo-related infrastructure, including 3.4 million barrels of liquid fuel storage, 60,000 tons of cement storage, adjacent Ship Creek area barge and rail terminals, plus intermodal connections to the State's principal marine, road, rail, air and pipeline transport systems.
Port of Anchorage docks were initially constructed to last 35 years. The half-century-old facility has long exceeded its structural design and economic life, and today the facility is suffering from a slow-motion disaster of corrosion and obsolesce.
Barring a major earthquake or other unexpected event, the Port is unlikely to suffer catastrophic failure that causes large numbers of casualties or disastrous property loss. Instead, it will endure a slow-motion failure from corrosion and age that will suck value out of business and infrastructure investments while making life in Alaska more expensive and less convenient.
The Port's docks are supported by 1,423 hollow-steel piles that originally averaged 7/16-inch thick. These aging piles have lost up to three-quarters of their original thickness to corrosion near their mud lines. Workers started reinforcing the most corroded piles with steel jacket in 2004, but these jackets are just BAND-AIDs® that can only be applied once and typically last 10-to-15 years, while doing little to improve seismic resiliency. The Port has jacketed 609 piles so far, but the docks continue to lose their load-bearing strength and will start closing in about 10 years, regardless of seismic activity or anything else.
The docks have also outlasted the small ships and cargo-handling technologies that were common in the Sixties and Seventies. Present days shippers prefer larger vessels and new equipment that improves shipping efficiency, safety and reliability.
The Municipality of Anchorage recognized the Port's structural and economic issues decades ago and started pursuing solutions. The initial attempt to replace the docks, called the Port Intermodal Expansion Project, did not succeed and the Municipality is now struggling to replace the docks before they fail and cause statewide disruption. The challenge is that the Port is owned and operated by the Municipality of Anchorage, but it directly serves some 85 percent of all state residents, supports the statewide economy and is critical to national economic and security interests.
Officials are settling on a plan to replace the Port's aging docks while maintaining ongoing operations and minimizing costs. Once started, construction is expected to last at least seven years and cost at least $700 million, including work that must be done to repair damages caused by the failed attempt to replace the existing wharf on piles with a sheet pile wharf.
The Municipality asked the Legislature and Gov. Walker's administration in 2016 and again in 2017 for some $300 million in state funding to support the project; but legislators and administration officials have largely overlooked the Port's failing dock while they focused on Alaska's fiscal gap and other issues.
Now time is running out. To prove that point, a 57,000-pound fender-pile structure broke off of the Port's Terminal 2 last June while a ship was docking. Nobody was injured, there was no vessel damage and surface workers and divers managed to remove the structure from the berth without delaying any ship visits. But it was a close call and a similar incident in winter, when ice would prevent divers from entering the water, would likely close a berth for months.
Consequently officials are now moving forward to replace docks and intend to start shore-side work and dredging in 2018 that will enable construction of a new fuel and cement terminal in 2019 just south of the existing docks. The new berth will be 45 feet deep at low tide, to serve larger, modern vessels that current facilities cannot handle. And when that dock is complete, workers will move north demolishing and replacing fuel and cargo terminals until the failing docks are replaced.
Initial work is likely to be funded with money that remains from earlier dock-replacement efforts. New funds will have to be raised from a combination of private and public sources. Port tenants, for example, will pay for such dock improvements as new cranes, which will be installed for particular tenant's use and convenience. Some of the funding is expected to come from litigation to collect damages from the failed Port Intermodal Expansion Project. The federal government is expected to pay for a portion of the work; to support national defense, homeland security and commerce needs. The State may fund a portion of the project; and remaining costs will most likely be covered by Port revenue bonds that will be repaid with cargo-related fees and tariffs . . . that will be passed onto statewide consumers of fuel and goods transported across Anchorage's docks.
This reality that the Port serves all Alaskans, and that they will ultimately pay for its new docks, drove Anchorage Assembly's decision in October to rename the aging facility. The Municipality-owned Port of Anchorage is critical, statewide infrastructure that is now officially called, Port of Alaska.