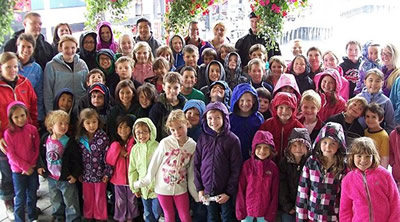 Due to a current staffing shortage we will not be offering Port tours to the general public this summer. However, Port of Anchorage personnel are happy to welcome school classes or groups who are interested in learning more about the history and future of the Port of Anchorage, a vital lifeline to many Alaskans. Please call our main number at 343-6200 to arrange for your tour. A six week notice is requested.
Visitor Requirements
To specially tailor your tour to your group, please include the following information in your e-mail correspondence or be prepared to discuss over the phone when scheduling your visit.
Name of each adult attending tour
Group Size
Number of adults
Number of children
Special needs or restrictions with your group
Please note, if you are unable or unwilling to provide proper information to security, your group may be denied access to the Port of Anchorage.
Security Statement
Due to heightened security requirements, all Port properties and roads are closed to the public. All inbound traffic to the Port is controlled and subject to search. This includes both commercial truck traffic and private vehicles. Drivers must have proper identification and a need to be on the facility to gain access. Individuals having business at the Port must have a confirmed Port sponsor or contact person and a contact phone number.
Anyone not having a valid reason to be on the Port of Anchorage will be denied entry.
Certain items are considered Prohibited on the Port of Anchorage and facilities located within the Port Security Zone. Examples of these prohibited items are; firearms, ammunition, incendiary devices, explosives, and unauthorized Haz Mat.
The Port of Anchorage staff person responsible for the security program and who can provide additional information or answer any questions is Stuart Greydanus, Facility Security Officer. He can be contacted at 343-6232.
We look forward to meeting you!