View Construction Webcams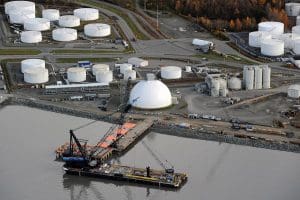 Port of Alaska (PoA) finished a successful first season of in-water Petroleum and Cement Terminal (PCT) construction in mid-November 2020. Workers substantially completed the base structure for the PCT access trestle and platform. They also removed the temporary construction trestle that was used to build the PCT base structure. The work site is now shut down for winter.
PCT-related shore preparation work and transitional dredging was performed in 2018 and 2019. Pacific Pile and Marine won two separate PCT construction contracts for 2020 and 2021 and expects to resume work in April 2021. The overall PCT project is on budget and schedule and expected to open in late 2021.
The completed PCT is projected to cost a total of $203 million including all project management, design, permitting, upland stabilization (deep soil mixing), shoreline stabilization, transitional dredging and two seasons of in-water wharf construction. The project has had unexpected delays and expenses associated with such matters as COVID-19, pile-driving obstructions, marine mammal permit requirements and beluga whale activities – but expenses caused by these issues have not exceeded budget and schedule contingencies.
Port of Alaska (PoA) is our state's primary inbound cargo facility. It handles half of all Alaska inbound fuel and freight that is delivered to final destinations across the state and consumed by 90 percent of Alaska's residents.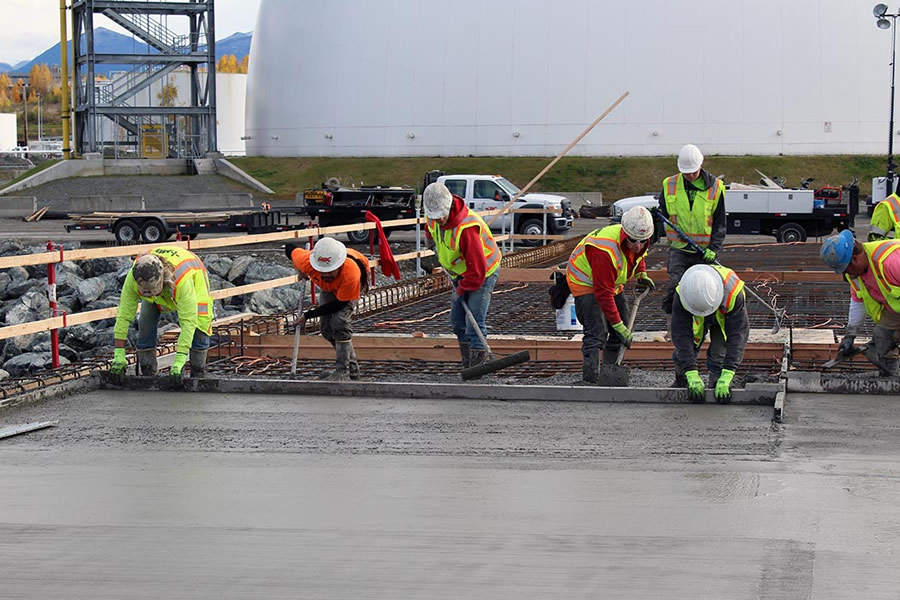 The PCT project is the first construction phase of Port of Alaska Modernization Program (PAMP) that aims to replace aging fuel and cargo terminals and related infrastructure before they fail from a combination of corrosion and obsolescence. PAMP will:
Improve operational safety and efficiency
Accommodate modern shipping operations
Improve resiliency – to survive extreme seismic events and Cook Inlet's harsh marine environment
The PCT will be a wharf on piles that is located south of existing PoA terminals, offshore of and adjacent to Alaska Basic Industry's cement-storage dome. It will replace Petroleum Oil Lubricants Terminal 1 (POL1), PoA's primary petroleum terminal and Alaska's only bulk cement-handling marine terminal. POL1 opened in 1965, is severely corroded, and suffered significant structural damage during the Nov. 30, 2018 M7.1 earthquake.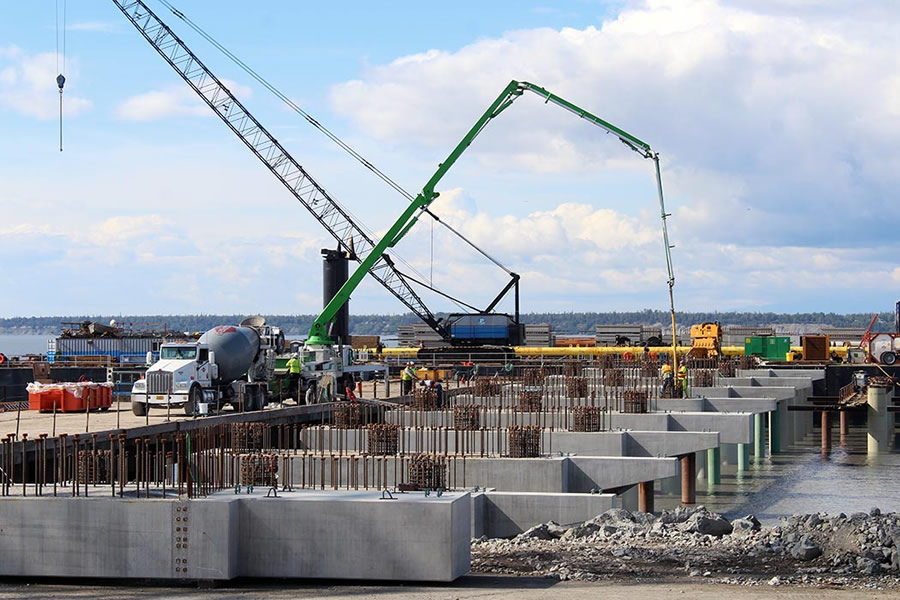 The PCT must be completed before POL1 fails or is demolished to ensure that Port of Alaska has capacity to economically meet Alaska fuel and cement needs. PoA officials expect to (eventually) demolish POL1 and general cargo Terminal 1 – the port's two oldest terminals – after the PCT is completed to make room for a new general cargo terminal.
Engineers estimate that aging PoA terminals are likely to start closing due to corrosion and loss of load-bearing capacity in as few as seven years if they are not replaced – regardless of any repair efforts – possibly sooner if there is another big earthquake.
Final PAMP general cargo terminal scope and designs are still being determined based upon user needs and funding. Decisions will be driven by:
Market/user needs (users expected to pay for user-requested betterments . . . e.g., cranes)
Department of Defense expectations (PoA is one of 17 DoD-designated commercial strategic seaports worldwide and provides critical support for national defense interests across Alaska, the Pacific and the Arctic)
Earthquake resiliency, response and disaster recovery needs
Program funding – anticipate that funding sources will include combination of Federal and State grants, PoA cargo fees and tariffs, and private funds.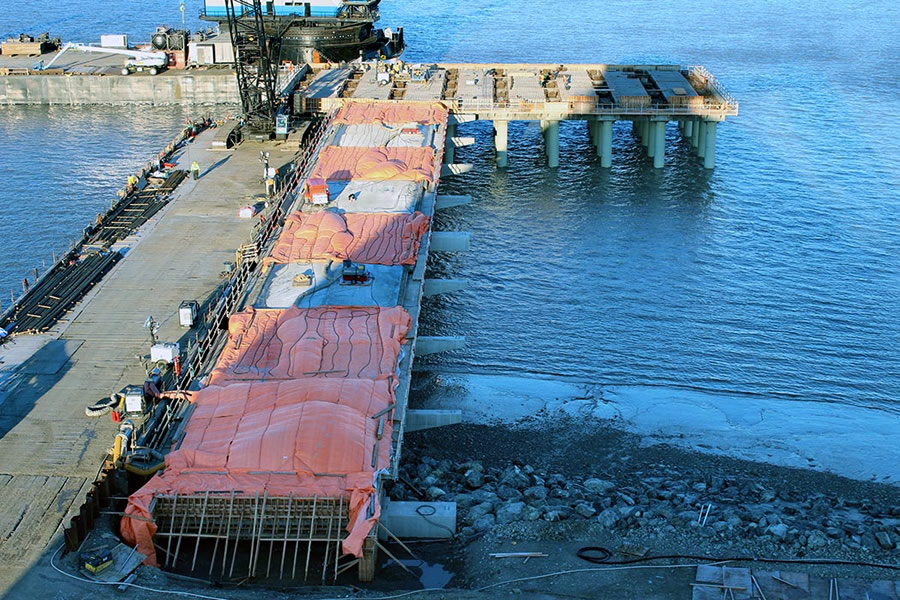 PAMP is an expensive program that will likely exceed a $1 billion when it is completed – depending upon final project scope and design – including the PCT, demolition of existing structures, construction of two new cargo terminals and related infrastructure.
Note that his cost projection does NOT include PoA's north extension stabilization work that is needed to remove and stabilize work performed as part of the failed Port Intermodal Expansion Project (PIEP) that MUNI officials shut down in 2012. That stabilization work is not part of PAMP but must be completed before PoA's general cargo terminals can be replaced to enable safe and continuous general cargo operations during PAMP-related cargo terminal construction. Muni officials sued the U.S. Department of Transportation's Maritime Administration (MARAD) in 2014 to recover PIEP-related damages. That litigation is scheduled for trial in early 2021.
Fun PCT Facts
The PCT pilings and concrete deck are designed to last for 75-years
Super-seismic: the PCT is designed/constructed to survive a 1,000-year seismic event (i.e., an earthquake of a magnitude that has a 0.1 percent chance of happening in any given year. This "design earthquake" is bigger than Alaska's 1964 Good Friday Earthquake).
Pacific Pile & Marine used four cranes to construct the PCT's trestle and platform, including Stor Kron (aka: Pacific Lifter), the largest derrick barge on the U.S. West Coast. Stor Kron means "big crane" in Norwegian. Stor Kron/Pacific Lifter departed Anchorage on Nov. 3, 2020 and is scheduled to return next spring to help finish PCT construction.
The PCT's 2020 steel pile order was so large that it was fabricated in four U.S. foundries (two in Washington, one in Illinois and one in Mississippi)
Blunt-force precision: The PCT trestle and platform are supported by 72 permanent piles that weigh about 150 tons each and are about 180 feet long. These piles were driven as single units – without field splices – to save time and maintain construction schedules. Each pile has a placement margin of error of less than six inches (about three inches off center in any direction) to fit precast concrete pile caps.
The PCT trestle and platform decking is supported by 123 precast concrete units, and 2,909 cubic yards of concrete that was placed on the PCT as recently as last week. Several of the precast concrete units weigh more than 250,000 pounds.
Endangered marine mammals: Upper Cook Inlet is home to a population of endangered and protected beluga whales. Federal regulators prohibit marine pile driving when endangered marine mammals are sighted in a protected area that extends 2.25 km (1.4 mi) around the PCT site. The PCT project permit requires a team of marine mammal observers that monitors this protected area and notifies construction officials to cease construction activities when beluga whales are in the project vicinity. The observers use four observation posts that are spread along some 6.5 miles of Knik Arm coastline.
The PCT project uses "bubble curtains" to help protect sea mammals by reducing underwater pile-driving noise that is emitted into Knik Arm. Bubble curtains are created by positioning a concentric sleeve and perforated ring around piles that are being driven. Air is pumped through the perforations to create dense curtains of bubbles that surround the piles and diffuse pile-driving noise. Underwater hydrophones were used to monitor the bubble curtains' effectiveness.
The PCT construction project created approximately 80 full-time jobs this summer, including some 25 Pacific Pile & Marine positions and a host of specialty subcontractors that included marine mammal observers, electricians, ironworkers, drillers, concrete finishers, truck drivers, etc. The project also employs year-round project office staff including project managers, engineers, permit specialists, etc. Most of these summer construction positions were local hires.