View Construction Webcams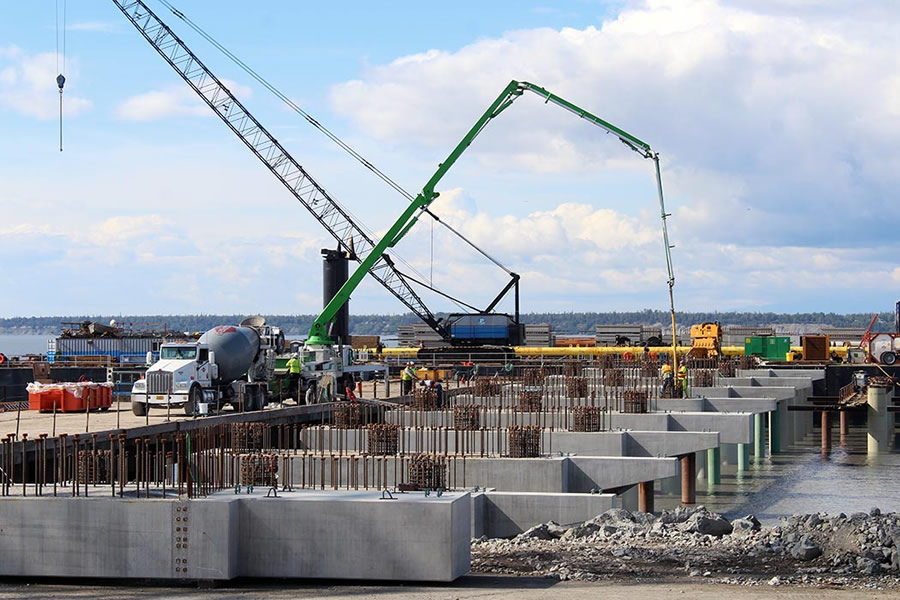 2021 Construction
Port of Alaska expects to complete construction and initiate operations of its new Petroleum and Cement Terminal (PCT) this year.
The PCT will be a pile-supported dock located south of existing terminals and adjacent to ABI's cement-storage dome. It will replace Petroleum Oil Lubricants Terminal 1 (POL1), Port of Alaska's primary petroleum terminal and Alaska's only dock equipped with a pneumatic, bulkcement unloading and transfer system. POL1 opened in 1965, is severely corroded, and suffered significant structural damage during the Nov. 30, 2018 magnitude 7.1 earthquake.
The PCT is the first phase of the Port of Alaska Modernization Program (PAMP) and must be completed before POL1 fails or is demolished to ensure that Port of Alaska maintains capacity to economically meet Alaska fuel and cement needs.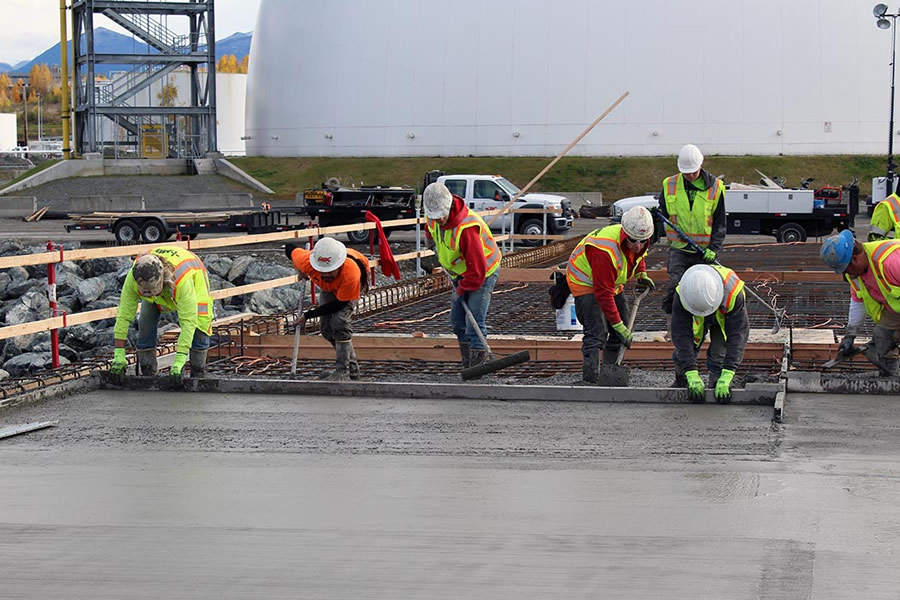 Port of Alaska officials intend to demolish POL1 and general cargo Terminal 1 – the port's two oldest docks – after the PCT is completed to make room for a new general cargo dock. PAMP aims to replace aging cargo terminals and related infrastructure to:
Improve port operations, safety and efficiency
Accommodate modern shipping operations
Improve resiliency to earthquakes and other disasters
PAMP's general cargo terminal designs, construction schedules and financing are still being determined.
PCT completion/commissioning (Dec. 2021)
General cargo terminal design and permitting (2021-24)
Phase 1 north shoreline stabilization (2022)
Administration building replacement (2022-23)
Phase 2 north shoreline stabilization (>2022)
General cargo terminal 1 (lift-on/lift-off) replacement (2025)
General cargo terminal 2 (roll-on/roll-off) replacement (2028)
Fuels terminal incorporation (>2028)
PCT 2021 construction activities run from April through November. Crews will build mooring dolphins and fenders, install utilities and petroleum and cement handling equipment, and move the south floating dock.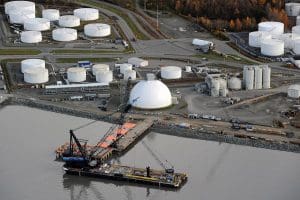 Workers will drive some 61 piles between April and late July of 2021. About 40 piles will be temporary and extracted between August and October. Twentyone permanent piles will range from 3-ft. to 12-ft. diameter. Most of the pile driving will use a vibratory hammer instead of a louder impact hammer, and noise and vibration are expected to be similar or less than last year. Pile extraction is generally quieter than pile driving. Work schedules call for seven-day work weeks with most activities between 7 am and 7 pm, depending upon tides, marine mammal observations and weather. The PCT should be completed and operational in late 2021.
Fun PCT Facts
The PCT pilings and concrete deck are designed to last for 75-years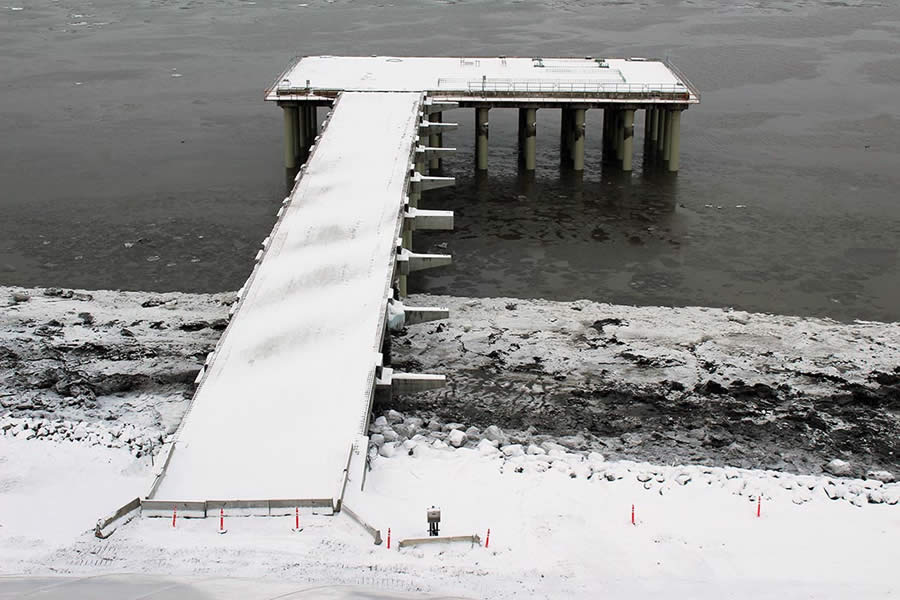 Super-seismic: the PCT is designed/constructed to survive a 1,000-year seismic event (i.e., an earthquake of a magnitude that has a 0.1 percent chance of happening in any given year. This "design earthquake" is bigger than Alaska's 1964 Good Friday Earthquake).
The PCT's 2020 steel pile order was so large that it was fabricated in four U.S. foundries (two in Washington, one in Illinois and one in Mississippi)
Blunt-force precision: The PCT trestle and platform are supported by 72 permanent piles that weigh about 150 tons each and are about 180 feet long. These piles were driven as single units – without field splices – to save time and maintain construction schedules. Each pile has a placement margin of error of less than six inches (about three inches off center in any direction) to fit precast concrete pile caps.
The PCT trestle and platform decking is supported by 123 precast concrete units, and 2,909 cubic yards of concrete that was placed on the PCT as recently as last week. Several of the precast concrete units weigh more than 250,000 pounds.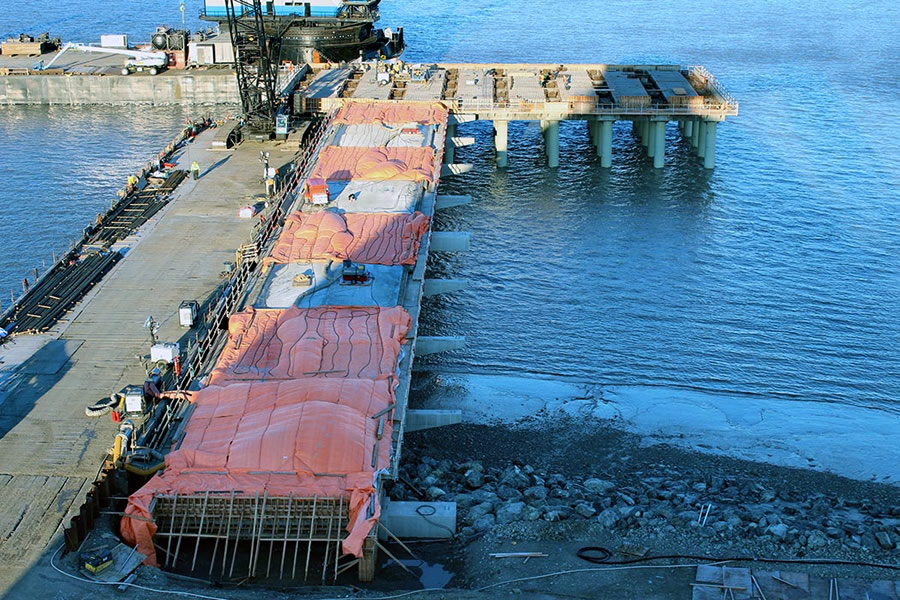 Endangered marine mammals: Upper Cook Inlet is home to a population of endangered and protected beluga whales. Federal regulators prohibit marine pile driving when endangered marine mammals are sighted in a protected area that extends 2.25 km (1.4 mi) around the PCT site. The PCT project permit requires a team of marine mammal observers that monitors this protected area and notifies construction officials to cease construction activities when beluga whales are in the project vicinity. The observers use four observation posts that are spread along some 6.5 miles of Knik Arm coastline.
The PCT project uses "bubble curtains" to help protect sea mammals by reducing underwater pile-driving noise that is emitted into Knik Arm. Bubble curtains are created by positioning a concentric sleeve and perforated ring around piles that are being driven. Air is pumped through the perforations to create dense curtains of bubbles that surround the piles and diffuse pile-driving noise. Underwater hydrophones were used to monitor the bubble curtains' effectiveness.
The PCT construction project created approximately 80 full-time jobs in 2020, including some 25 Pacific Pile & Marine positions and a host of specialty subcontractors that included marine mammal observers, electricians, ironworkers, drillers, concrete finishers, truck drivers, etc. The project also employs year-round project office staff including project managers, engineers, permit specialists, etc. Most of these summer construction positions were local hires.