Attachments:
Port of Alaska was renamed from Port of Anchorage in 2017, because this Port reaches much farther than just Anchorage. The Port serves over 85% of Alaska with everything you eat, wear, or drive. Around 74% of the waterborne freight entering Southcentral Alaska comes through this Port.
Merchandise goods like food, clothing, snowmachines, vehicles, and business supplies are shipped to Alaska on container ships operated by TOTE Maritime and Matson Inc. These companies send two container ships from Port of Tacoma to Port of Alaska every week, on Sunday and Tuesday.
(Hint: if you want the best selection at the grocery store visit on a Monday or a Wednesday!)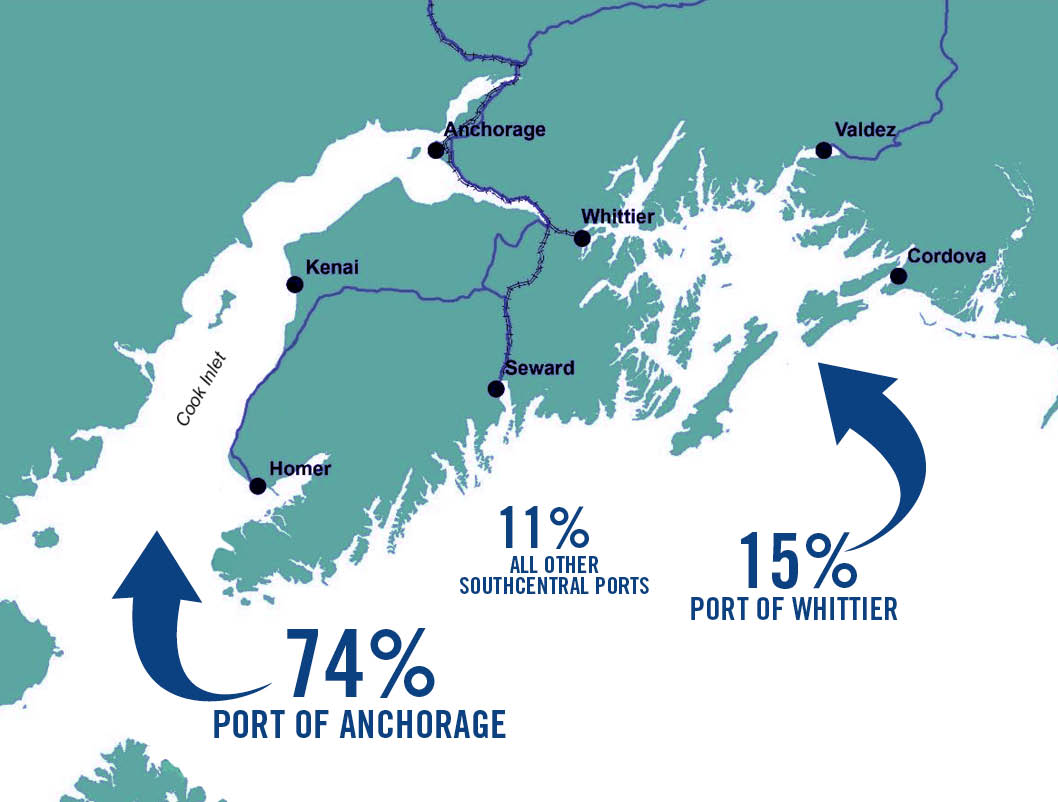 Once these goods arrive in Anchorage they are offloaded and delivered throughout Alaska in a variety of different ways. Containers bound for Anchorage locations are delivered by truck, while containers and goods bound for Fairbanks are shipped up north through a combination of road and rail. The first stop for 90% of the merchandise goods in Fairbanks is through the Port of Alaska.
For freight headed to rural Alaska, there are several different transportation routes depending on the final destination. Every year, approximately 100 million pounds of consumer goods enter the Port of Alaska before being transported to consolidation centers in Anchorage or Fairbanks where they are entered into the bypass mail system and flown out to rural communities. An estimated 70% of bypass mail shipments originate in Anchorage with the remaining 30% originating in Fairbanks. Through this hub and spoke transportation system, the Port serves over 250 communities.