Cement is quite literally the building block for construction projects across the state. Since it is not manufactured in Alaska, it has to be shipped from overseas sources. To ensure competitive pricing and economic growth the construction industry must have affordable access to bulk cement. The Port of Alaska (POA) has the only facilities in southcentral Alaska with the capability to offload bulk cement providing an efficient and affordable delivery method. Every year between four to six cement ships call on the Port of Alaska.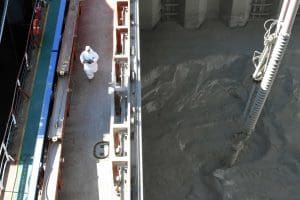 Unlike other ports in the state, cement coming into POA does not have to be packaged and shipped in sacks or any other form of containerization in order to be offloaded at our facilities. This means that the cement company does not have to take any extra time or money to prepare the cement for transport. When arriving at the Port, cement ships arrive with dry, powdered cement, which is carried in segregated hold compartments. The cement is transferred from the ship to port facilities by a pneumatic pump system that transports the dry cement from the ship's hold to storage silos on port property through a 2,400 foot cement pipeline, the longest cement pipeline in North America. On average it takes upwards of two weeks for a ship to empty its holds, providing that the weather stays dry.
Cement shipments to POA account for over 80% of the cement used for concrete in the state annually–enough cement to build a four inch deep, four foot wide sidewalk from Kenai to Utqiagvik (formerly Barrow) and back. Cement is transferred from POA to companies across Alaska for use in mines, school construction, and other important projects. And while this is proving to be effective today, there are ways it could be improved. One significant improvement will be realized immediately upon completion of the Port of Alaska Modernization Program. Currently, the ships importing cement are called "Handy" size ships and can carry up to 38,000 tons of cement, however the current -35ft draft depth at the port limits the volume of cement each ship can carry by more than 30%. Additionally, the "Handy" size ships are now outdated. Modern cement ships, called "Handy Max" can carry up to 55,000 tons per trip and will eventually phase out the smaller, "Handy" ships. The completed port modernization project will provide a -45ft draft to accommodate these larger "Handy Max" ships. The new cement berth will also be closer to the cement storage facilities located at the Port. This could shrink the offloading time to six days, about 50% faster than currently. Ultimately this means that there will be fewer and larger shipments of cement, thus creating better prices for business and consumers throughout Alaska.
Attachments: