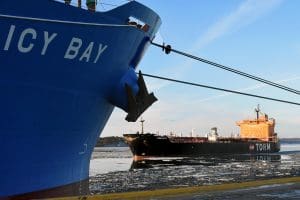 Attachments:
Port of Alaska (POA) provides vital fuel supplies for communities across Alaska, including Southeast! Ninety-four percent (94%) of all refined petroleum products entering Southcentral Alaska enter through POA. Fuel enters the Port in several different ways:
Pipeline from Nikiski: This pipeline starts at the Tesoro refinery in Nikiski and forks as it nears Anchorage. One fork transports jet fuel directly to Ted Stevens Anchorage International Airport, and the other transports it to the Tesoro terminals at the Port for temporary storage, then it is pumped via a second pipeline from the Port to the airport when needed. Occasionally the level of demand rises above what the pipeline can support. When this occurs, barges are used to transport additional jet fuel to the Port of Alaska.
Fuel tankers/barges: Fuel tankers and barges deliver High and Low Sulfur Diesel, Unleaded Gasoline, Jet Fuels, and Aviation gas to the Port from the in-state refineries in Nikiski and Valdez, from West Coast refineries, and from overseas sources. As production from in-state refineries has declined, the Port has seen an upswing in the number of fuel tanker deliveries originating in Asia and delivering commercial grade jet fuel.
Once fuel enters Port facilities, it is distributed across the state in a variety of methods:
Jet fuel from Port facilities to Ted Stevens Anchorage International Airport is transported both by fuel trucks (Aviation Gasoline) and by a small diameter pipeline (Jet Fuel) running directly from the Port to the airport.
JP-8 is a specific type of fuel used by the Department of Defense. One hundred percent of the JP-8 fuel used by Joint Base Elmendorf-Richardson is transferred from the Port to the military by a separate, small diameter pipeline running from fuel storage tanks at the Port to the military base. This is a critical component of the military's ability to operate within Alaska.
Unleaded gasoline enters the port and is directed to storage tanks, and there it is distributed by truck to many different locations within Southcentral Alaska.
Aviation Gas, or Avgas, is distributed within the Southcentral communities by truck, and to Western and Southeastern Alaska by barge shipments in the spring and fall.
Heating Oil (High Sulfur Diesel) is distributed from POA to western and northern Alaska communities by barge in the summer and fall. Annually, around 1.7 million barrels of heating oil are shipped to Rural Alaska from POA.