Port of Alaska (POA) is essential to Alaska's Armed Forces, providing deployment and staging areas, essential fuel supplies, and consumer and business goods. The Port has a long and successful history of supporting military deployments from its docks. Between 2005 and 2010, the Port supported over 20 military deployments including Stryker Brigade deployments to Iraq and Afghanistan. During that same time period over 18,000 pieces of military equipment passed through the Port's facilities.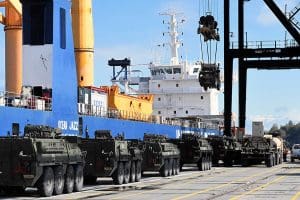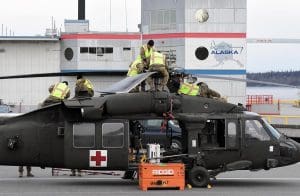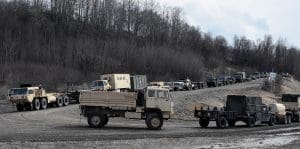 In 2006, the Port of Anchorage was designated as a Department of Defense National Strategic Seaport. Today Port of Alaska is one of 17 (counting Guam) designated "U.S. Commercial Strategic Seaports" nationwide.
What makes Port of Alaska strategically important to the Armed Forces? First, POA is connected to Joint Base Elmendorf-Richardson (JBER) by a secure roadway created as part of the Port's ongoing Intermodal Expansion Project. This allows the military to deploy directly from JBER to the Port without having to tie up public roadways. Secondly, the Port has existing and efficient intermodal capabilities. POA is directly connected to four of Alaska's five major military installations by rail. These intermodal connections can support deployments from both JBER and Fort Wainwright via rail lines that transport all military cargo directly onto the secure Port property. A third factor is the year-round accessibility of POA allowing the military to stage deployments from January through December without difficulty.
Another critical aspect of the Port's relationship to the military is through its fuel supplies. One-hundred percent of the jet fuel used on JBER enters the Port of Alaska and is transported to the base by pipeline. Additionally, two thirds of all fuel used by the military for transportation and other purposes passes through port facilities first. If there was a large seismic or other catastrophic event today, it is unlikely the port facilities would remain fully functional. This could diminish the Port's ability to support fuel shipments to and from its facilities potentially affecting its support service to the military in a time of great need. With completion of the Port of Alaska Modernization Program, several areas of the dock, including modernized fuel berths, are designated as "essential facilities." These areas are designed to withstand a catastrophic event with minimum damage to ensure that Alaskans and the Armed Forces can always receive access to essential supplies and services.
In a 2009 letter to U.S. Secretary of Transportation Raymond LaHood, U.S. Senator Daniel Inouye wrote "The Port of Anchorage* is vital to our national defense." He goes on to identify all five military bases in Alaska saying "Without the Port of Anchorage, these key military bases would be out of business." This recognizes an additional relationship between the POA and military operations. The Port supplies the essential merchandise goods that the military relies on every day to conduct business. From goods in the commissary to notebooks and pencils, these items all come through the Port before being delivered to military bases around Alaska.
In a December 2010 letter to U.S. Senator Lisa Murkowski, Lieutenant General Dana Atkins, Commander, Alaskan Command writes, "The Port of Anchorage* is not only the strategic hub for military deployments and operations, it is also the point of throughput for the commodities we stock in our base exchanges, commissaries and troop stores in support of 55,000 military and family members in Alaska."
To learn more contact (907) 343-6200 or send us an email at PortofAlaska@muni.org
*The Anchorage Assembly changed the name of the Port of Anchorage to the Port of Alaska in October, 2017.
Attachments: