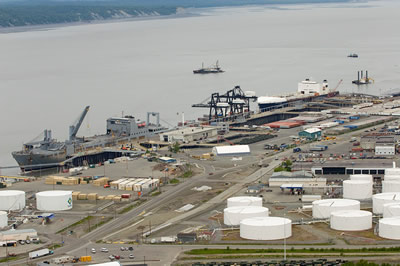 Port of Alaska facilities are strategic and critical to the State of Alaska due to five major areas:
Proximity to Population
Port of Alaska is strategically located at Alaska's population and business center. Sixty percent of all Alaska residents live within a two-hour drive of the Port and 75 percent of all Alaskans live on the Anchorage-connected road system.
Infrastructure
Port of Alaska facilities include:
Four ship berths that are dredged to a published draft depth of minus-35 feet mean lower low water (MLLW)
Three general cargo terminals (2,100 ft. of dock face) having container, roll on/roll off, bulk cement, and break bulk capabilities
Three 38-gauge, rail-mounted, electric container cranes (two 30-ton and one 40-ton capacity)
Loose cement offloading capability via pneumatic pump and pipeline
Two petroleum product terminals (600 feet each of berthing space) with nine 2,000-bbl./hr.-product pipelines
Bulk Petroleum valve yard capable of accommodating multiple simultaneous marine/shore and/or inter-user shore side transfers
On-dock transit shed with 27,000 square foot heated storage/office space
No limit on maximum ship length or breadth
Port of Alaska has 125 acres immediately adjacent to millions of dollars of freight-related infrastructure, including:
Approximately 60 acres of laydown/transit yards
3.4 million barrels of liquid fuel storage
60,000 tons of cement storage
Intermodal Hub
Port of Alaska is a year-round, deep-water port that has direct, intermodal connections to Alaska's principal marine, road, rail, air and pipeline transportation systems.
Marine- Barge service connecting rural Alaskan towns and villages
Road- Road connections to 75 percent of Alaskan residents
Rail- Less than one mile away from the Alaska Railroad's main cargo terminal/yard
Air- Only five miles away from Ted Stevens Anchorage International Airport, one of the largest freight airports in the world
Pipeline- Connections to Nikiski and JBER
Tsunami Proof
The geography of Upper Cook Inlet virtually eliminates the hazard of an Anchorage-area tsunami.
Foreign Trade Zone
The Municipality is a grantee of Anchorage Foreign Trade Zone (FTZ) No. 160.
Port of Alaska administers the Municipal foreign trade zone program that includes about 1,000 acres located at Port of Alaska, Ted Stevens Anchorage International Airport, and private sites throughout the Municipality.
Foreign-trade-zone related inquiries should be directed to the Port Director at portofalaska@muni.org or 907-343-6200.