Coronavirus/COVID-19 impacts on Port of Alaska in Anchorage operations
1600 / 4 pm Thursday, April 2, 2021
Port of Alaska is open and operating as normal during the ongoing COVID-19 pandemic. Matson and TOTE vessels made regularly scheduled deliveries on Sunday, March 29 and Tuesday, March 31, 2020. Their next scheduled deliveries are on Sunday, April 5, 2020.
An April 2, 2020 U.S. Customs and Border Protection Service release said CBP is closing its downtown Anchorage "Port of Anchorage" office because of COVID-19. This release referred only to the CBP's Federal Building office at 604 West 4th Ave, Anchorage, AK. The downtown CBP office closure does not impact cargo operations at the Municipality of Anchorage's (sea) Port of Alaska.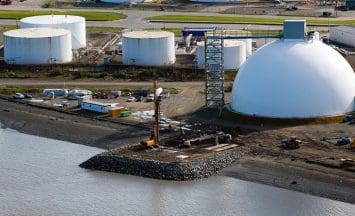 MODERNIZATION PROGRAM
Port and Municipal officials plan to replace aging docks and related infrastructure to:
Improve operational safety and efficiency
Accommodate modern shipping operations
Improve resiliency . . . to survive extreme seismic events and local marine environment for at least 75 years
CLICK FOR MORE INFO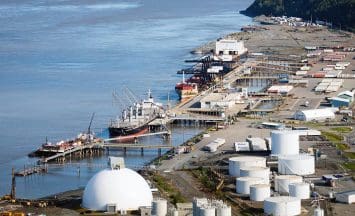 Big Anchorage Tides
Upper Cook Inlet has the highest tides in the United States and range almost 40 feet. NOAA tide predictions for Port of Alaska typically range between low tides down to minus five feet and high tides that exceed plus 33 feet, with a mean daily tide range of 26.2 feet. Anchorage's extreme tides are driven by Upper Cook Inlet's constricted geography and the configuration of northern hemisphere land masses. Local weather conditions intensify Anchorage's tide fluctuations. Click on these video links to see how tides influence Port of Alaska operations.
Click the links below to view on YouTube or Click Here for our videos page.
What's new at the port . . .
Next Anchorage Port Commission Meeting
May 13, 2020 noon-1:30pm
Location: Port of Alaska administrative office. 2000 Anchorage Port Road, 2nd floor conference room.
Note: Port of Alaska is a secure facility. Photo ID is required to enter Port of Alaska security zone. Firearms, ammunition, fireworks and other explosives are prohibited inside of the Port of Alaska security zone. All vehicles may be subject to brief security inspection. Please park in designated spaces adjacent to administrative office.
MARAD grants the Municipality of Anchorage $20 million for Port of Alaska project
ANCHORAGE, AK—The U.S. Department of Transportation Maritime Administration (MARAD) announced today that it awarded a $20 million infrastructure development grant to help replace aging Port of Alaska docks.
Click to Read Full Release
Port of Alaska Terminal Tariff No. 9 effective Jan. 1, 2020
Port of Alaska Terminal Tariff No. 9 is effective on Jan. 1, 2020. Click here to view Terminal Tariff No. 9.
$25 million BUILD Grant from the U.S. Department of Transportation ensures timely construction of new petroleum and cement terminal:
The U.S. Department of Transportation awarded Port of Alaska a $25 million Better Utilizing Investment to Leverage Development (BUILD) Grant on November 6, 2019 to help fund a new petroleum and cement terminal.
It is Alaska's premier inbound cargo port that handles more than 3.9 million tons of fuel and freight in 2018. About half of all Alaska inbound marine cargo crosses the port's docks . . . that leverage hundreds of millions of dollars of public and private infrastructure, including more than 125 acres of cargo handling yard, 3.4 million barrels of fuel storage, 60,000 tons of cement storage . . . and marine, road, rail, air and pipeline connections to all of Alaska.
The Port is located in tsunami-proof Upper Cook Inlet, adjacent to Alaska's population center and primary business and transportation hubs. It is U.S. Department of Commerce Foreign Trade Zone No. 160 that provides tariff benefits that improve federal, state and local business competitiveness. It is also one of 17 (including Guam) Department of Defense-designated "U.S. commercial strategic seaports" nationwide.
Port of Alaska serves deep-water vessels that operate year round to transport cargo faster, cheaper and more reliably than any other means. It is a critical piece of economic and national defense infrastructure that helps keep our nation strong . . . and Alaska produce fresh.