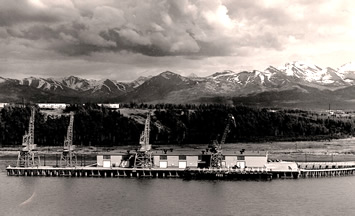 MODERNIZATION PROGRAM
The Port modernization program is not a port expansion project. It is a necessary reconstruction project.
LEARN MORE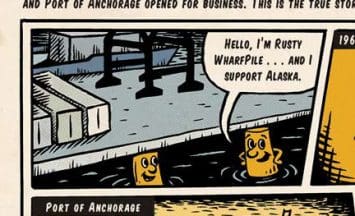 OLD PORT GETS NEW NAME
The Anchorage Assembly voted on Oct. 24, 2017 to rename the Municipality of Anchorage-owned and -operated port to reflect its statewide importance and national defense mission.
CLICK FOR MORE INFO
The Port of Anchorage is Alaska's premier cargo import terminal. Every year it handles more than 3.5 million tons of food, building materials, cars, clothing, cement, fuel and other goods that Alaskans need and use every day to live, work and thrive in our state.
The Port is an intermodal transport hub that efficiently connects marine, highway, rail, pipeline and air cargo systems to move goods and fuel to some 200 communities, military bases and other destinations across our State.
The Port of Anchorage is Alaska's economic heart. Almost half of the cargo crossing its docks is bound for destinations outside of Anchorage, from Homer to Prudhoe Bay. It serves deep-water vessels operating year round to transport cargo faster, cheaper and more reliably than any other means. It is a critical piece of U.S. national defense infrastructure that helps keep our nation strong . . . and Alaska produce fresh.
Port Story