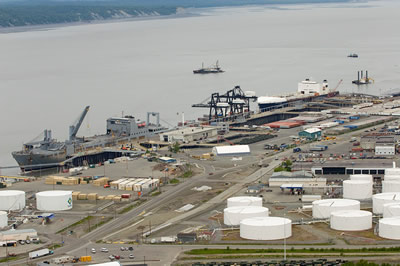 The Port of Anchorage sits in a strategic location for global commerce, fuel and cargo distribution, and military response. It is the only intermodal deep-water port in Alaska. We are fully operational year round, and located only a few miles away from one of the busiest cargo airports in the United States.
While the port pursues an aggressive expansion and redevelopment project, the current facility welcomes a variety of ships from fuel tankers to military cargo carriers, container ships to cruise ships. The port currently has four ship berths and a published draft depth of -35 ft mean lower low water (MLLW) which easily accommodates ships requiring 30 feet of draft.
Our facilities include:
Three General Cargo Terminals, 2,100 ft. of dock face, container, roll on\roll off, bulk cement and break bulk capabilities
Two Petroleum Product Terminals with 600 feet each of berthing space with four 2,000-bbl./hr.-product pipelines each
Loose cement offloading capability via pneumatic pump and pipeline
Intermodal connections via rail, road and air
Operating depth at all berths (except barge berth): dredged to -35 feet below MLLW
Maximum length and breadth: No limit
On-dock Transit Shed with 27,000 square foot heated storage/office space
Rail mounted, electric Container Cranes: (2) 30 ton and (1) 40 ton
Bulk Petroleum Valve Yard capable of accommodating multiple simultaneous marine/shore and/or inter-user shore side transfers.
The port occupies approximatley 220 acres with approximately 90 acres leased to long term users.
Foreign Trade Zone
The Municipality is a grantee of the Anchorage Foreign Trade Zone 160, the only activated FTZ in the State of Alaska. Anchorage Foreign Trade Zone (FTZ) No. 160, the only activated FTZ in the State of Alaska.
The Port of Anchorage is the Municipal department responsible for the administration of the FTZ program in Anchorage. At the present time FTZ No. 160 is comprised of seven sites totaling some 1,000 acres located at the Port of Anchorage, Anchorage International Airport and at five private sites throughout the Municipality.
An application for subzone status for the Tesoro Petroleum refinery in Kenai was approved by the United States Department of Commerce, Foreign Trade Zones Board in May 2001.
To learn more contact us at (907) 343-6200 or wwport@muni.org